A local pioneer family; Mike and his wife Marcy are the ones responsible for the Village. They owned and operated it. It is one of Minaki's oldest (New camps).
This has been influenced by the North Star, on a clear summer evening; it can be seen right across the river from the camp. Isn't it amazing?
These are some of the retail services they offer on the site of North Star Village: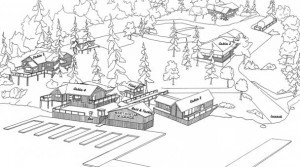 Ice
Snacks
Bait and Tackle
Marine Gas
The cabins have 16 channel cable TV/VCR, coffee makers, toasters, linens, soaps and detergents, freezers and microwave ovens.
Rest assured every cabin has everything you need and are fully equipped. But have in mind that if you have a request, feel free to ask the staff, this is to ensure that all visitors will be comfortable as possible.
Our cabins also have a towel for the guest, but then some of the guest brings their own towels and their pillows too.
If you have some advices for our cabin, feel free to tell us, and we'll do it for you.