Location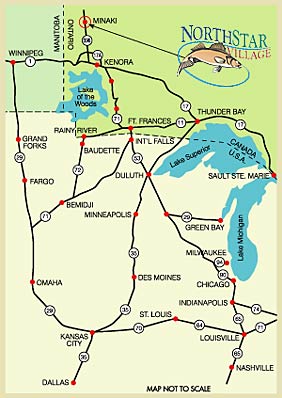 North Star Village is located on the shore of the historic Winnipeg River in the Hamlet of Minaki, 32 miles north of Kenora on Hwy 596 or 160 miles north of International Falls. Driving time is approx. 9-10 hours from Minneapolis or 12-14 hours from Chicago.
The accommodation and services here in North Star Village are created for our guests. This sport fishing camp is truly and absolutely an unforgettable experience for you and your family. Since 1998, the fish filet facility has been improved by sport fishers. It is definitely one of the most cleanest and modern food facilities in North America.
The docking is protected from the river traffic and wind. It is easily accessible to the following:
The boat launch
Gas
Bait
Tackle
Ice
Refreshments
In addition, the most essential of all is that the fishing for walleye, bass and northern and muskie starts at our docks.